Still

Questions?

We

help

have the answers!
Hotline: +49 8662 660 80
* calls at the usual local rate. Mobile telephony possibly deviating.
---
Mon - Thurs from 8:00 to 16:00, Fri from 8:00 to 12:00
E-Mail: support@atggmbh.com
We will reply you as soon as possible
---
AN EXCELLENT PERFORMANCE
Our windshield wiper has been honored!
Cutting windscreen wipers is in the trend. Therefore, we are very pleased that our ATG PERFECT.CUT Windscreen Wiper Reamers from comparisons has been rated Very Good (rating 1,3). Several products have been tested to rewipe windscreen wipers from different manufacturers.

With our ATG PERFECT.CUT you can even recut your windscreen wiper and save up to eight wiper pairs. Curious? Our offer.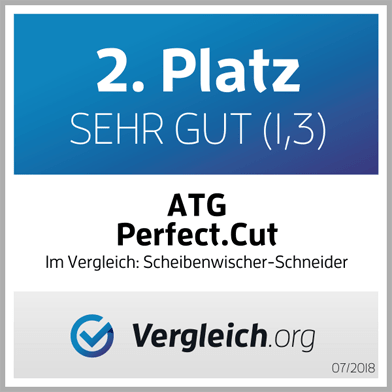 A company with over 30 years of experience
And for just as long we have been involved in the development, production and distribution of new, high-quality and innovative car accessories: self-repair kits and dyeing systems with a focus on DIY SMART REPAIR. Often there are no spare parts for classic cars, leasing vehicles have to be prepared before the return and damages have to be eliminated, as well as for the sale of used cars.

ATG offers successful self-repair experiences. As the market leader in Europe, we have spent the last few months investing heavily in new products and in our successful growth. ATG quality articles are also ideally suited as takeaway items for the specialist trade, wholesalers, car dealerships, workshops, workshop chains, automotive retailers, petrol stations, car dealerships, car parks, retail chains, DIY stores, tire trade, industrial and commercial applications, as well as online shops. We deliver all products with an application video using the so-called VideoLink / QR code. ATG products are problem-solving, fun to use, all the ingredients for repair are included in a set, the sets are self-explanatory, have a top